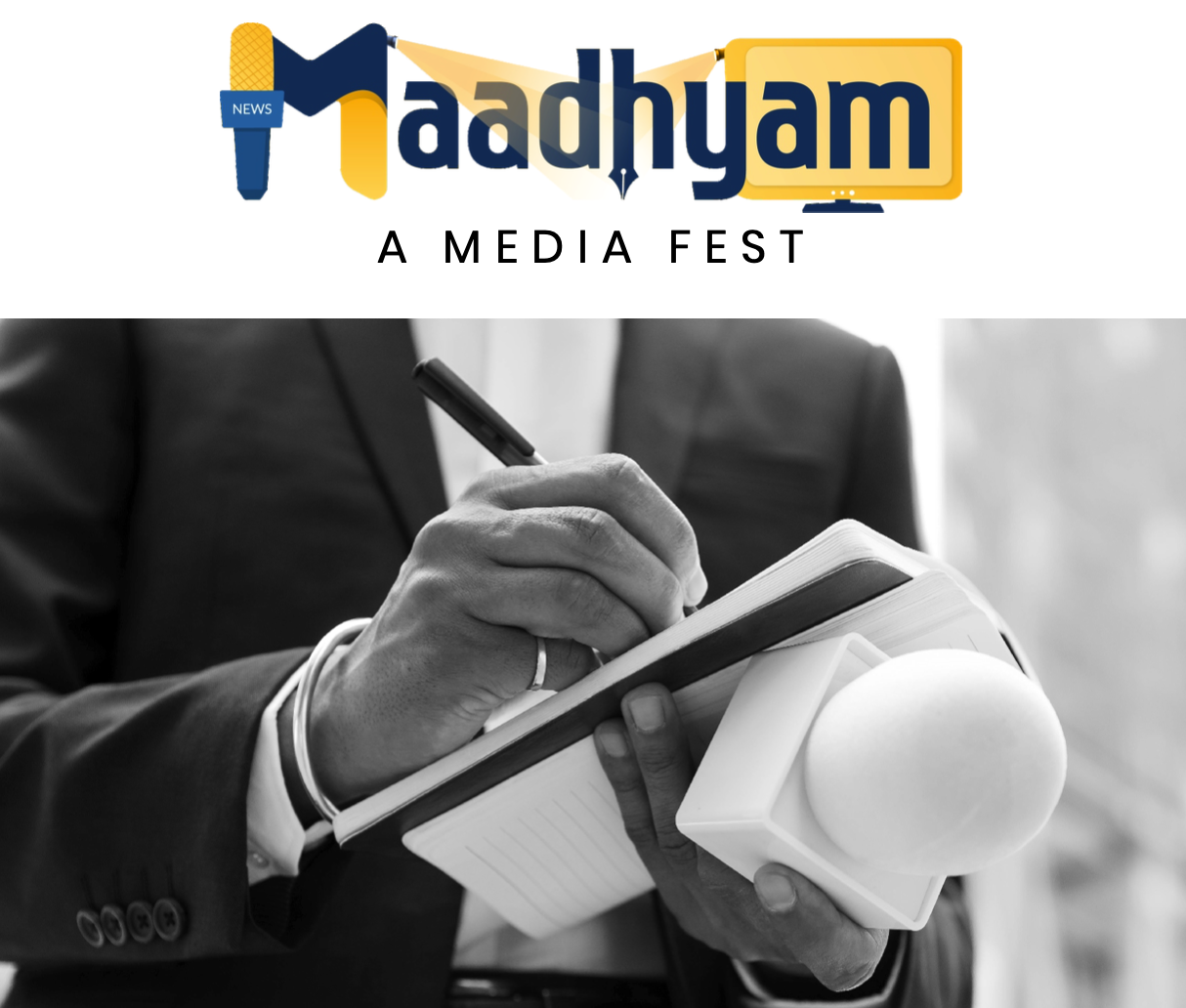 In the present world, careers in media have been rapidly gaining popularity amongst Gen-Z compared to the past. To this cause, many platforms have been established to cultivate talent amongst the youth. Parul University's Faculty of arts department of Journalism and mass communication has organized a skill stimulating event known as Maadhyam which is aimed to provide aspiring students a stage to express their creativity in the field of Media. The event aims to unleash young journalists in the country to challenge and develop a culture of fearlessness in raising their voices about the current issues being faced by the world.
The event has been strategically structured to allow maximum enhancement for all the contestants and spectators hence the following rules have been set to ensure an orderly and smooth event :
• It is mandatory for participants to carry their college identity cards and be punctual to every event during the fest.
• Participants are allowed to participate in only 3 events and will receive certification of participation.
• Any indiscipline by the students will not be tolerated during the event and smoking, drinking, and consumption of ny such substances is strictly prohibited.
• Students attending candid talks will be presented with e-certificates.
The series events organized over the three days include:

The Event Structure - Day 1 (September 01)
KHEECH MERI PHOTO
Time: 12:00 PM TO 1:30 PM
Venue: Food Court
Fee: 100
Click the link below to register
https://ease.buzz/202208Clla1g4O
PU WANTS TO KNOW (Live reporting)
Time: 1:30 PM TO 3:30 PM
Venue: Tea Post Garden
Fee: 100
Click the link below to register
https://ease.buzz/2022082HH17fgT
M-Ad (Advertisement)
Time: 2:00 PM TO 5:00 PM
Venue: Ayurveda Seminar Hall
Fee: 50 / person
Click the link below to register
https://ease.buzz/202208A371Tuiw
LIGHT, CAMERA & ACTION (Short Film)
Time: 9:30 AM TO 12:00 PM
Venue: Central Seminar Hall
Fee: 150 / pair
Click the link below to register
https://ease.buzz/202208UwS3EvbP
The Event Structure - Day 2 (September 02)
KEM CHHO PU ? (RJ Show)
Time: 9:30 AM TO 12:00 PM
Venue: Ayurveda Seminar Hall
Fee: 100
Click the link below to register
https://ease.buzz/2022084vLrkZfh
BREAKING VIEWS (Elocution)
Time: 3:30 PM TO 5:00 PM
Venue: Seminar Hall
Fee: 100
Click the link below to register
https://ease.buzz/2022083BCemdVj
Kaun Banega Gyani? (Quiz competition)
Time: 1:00 PM TO 2:40 PM
Venue: Central Seminar Hall
Fee: 50 / person
Click the link below to register
https://ease.buzz/202208hnkbBUNX
Chhaya kritya (Shadow Art Competition)
Time: 6:00 PM TO 8:00 PM
Venue: Central Seminar Hall
Fee: 50 / person
Click the link below to register
https://ease.buzz/202208WlBF3iCw
Vyang – Chitra (Cartoon Sketch)
Time: 3:00 PM TO 4:30 PM
Venue: Central Seminar Hall
Click the link below to register
https://ease.buzz/202208ZiiXRrWP
Shringaar, Live Makeup (Theme Based)
Time: 1:30 PM TO 3:00 PM
Venue: Ayurveda Seminar hall
Click the link below to register
https://ease.buzz/2022084NK3dCsI
Nukkad Natak (Street Play)
Time: 10:30 AM TO 1:00 PM
Venue: Tea Post Garden
Fee: 50 / Person
Click the link below to register
https://ease.buzz/202208kcA8zmxE
The Event Structure - Day 3 (September 03)
Pehchan Kaun? (Mimicking Journalists)
Time: 9:30 AM TO 12:00 PM
Venue: CENTRAL Seminar hall
Fee: 100
Click the link below to register
https://ease.buzz/202208MV961fb3