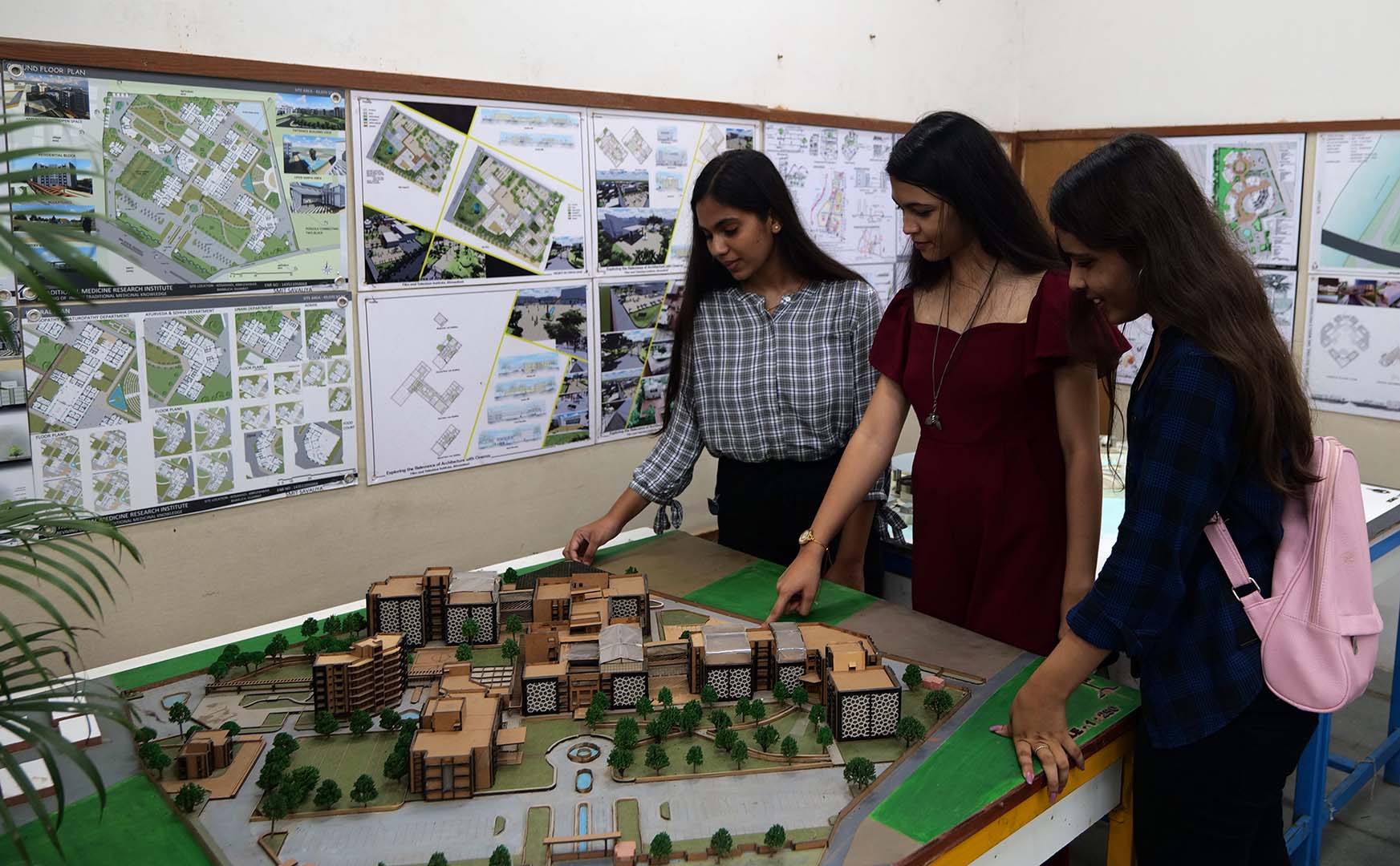 Architects are designers of the world. The 4th October is celebrated as World Architecture Day to commemorate the vital role that architects play in building our present and future. PU's Faculty of Architecture and Planning is observing this day by holding an exhibition of state of the art architectural projects and awe inspiring conceptual displays with expert talks as a highlight of the occasion. The event consists of 3 segments that include presentations by the senior academicians and practitioners and talks by young dynamic architects with established architectural practice, an academic exhibition showcasing the project work of the students and an exclusive display of selective photographs clicked by prominent press reporters and journalists of the city.
The event is graced by the prominent figures of the field of architecture including representatives of IIA (Indian Institute of Architects) and IIID (Indian Institute of Interior Designers), along with eminent Architects, Planners and Academicians. The event will feature informative learning seminars from experts such as Mr. Girish Doshi, Mr. Yatin Pandya and Percy Pithawala on current trends and future scope of architecture. This segment of academic interaction will end with talks from remarkable young emerging architects representing established practices who have created a name for themselves in the field of architecture at the early stages of their career.
Another segment of this extensive event involved an exhibition of noteworthy projects from architecture students of the University showcasing different facets of the outcome of the institute's three fold pedagogy which includes exposure, exploration, expression. These selective thesis projects of the students which portray the culmination of their academic career were displayed categorically, depending on their areas of research. These areas include topics relevant to societal concerns, cultural facilities, urban infrastructure & transportation, educational facilities, parametric designs, sustainability concerns, which display the hard work and talent of the students. The exhibition also provided insights into the social responsibility initiatives, innovative academic initiatives and international exchange programs undertaken by the Institution all these years, since its establishment.
Furthermore, a captivating display of remarkable photographs of reputed journalists and press reporters of the State is to be unveiled at the event. This spectacle will showcase hard hitting photographs that captured historic moments of the year. The 3 fold ceremony will perfectly capture the essence of art and architecture and the role it plays in today's society. Parul Institute of Architecture and Research provides a launching platform for the budding architects. Various alumni of PIAR, PU are emerging as noteworthy young practitioners and have established successful architecture firms among which are Vastu Shilp Consultants, Navkar Architects and Uneven Architects, will be felicitated at the event.