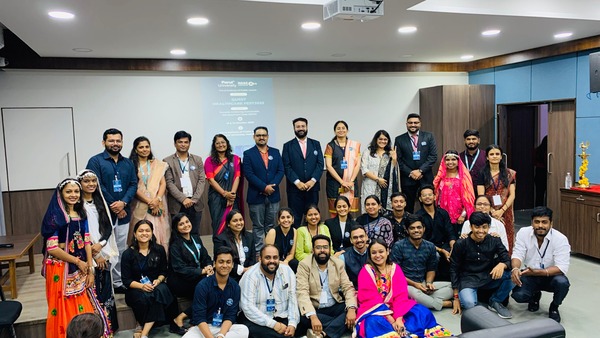 The Vadodara-based PU has continually strived towards inspiring and educating individuals on their health journey and encouraging them to take steps towards a healthier and happier life. To strengthen these efforts and commitment towards the betterment of public health, the university's Parul Institute of Public Health recently hosted the dynamic and engaging public health fest, Quest: A Healthcare Fest 2023.
The fest focused on promoting well-being and fostering a healthier, more vibrant community and brought together a large group of individuals from the field of public health such as students, research scholars, and healthcare professionals on one stage to discuss efforts and strategies that can be taken to better the health of the community.
The first-of-its-kind healthcare fest was a two day event filled with myriad of activities based on the theme "Towards Achieving Sustainable Development Goals" bringing together undergraduate and postgraduate students to explore and accelerate the research and strategy making process to achieve various Sustainable Development Goals (SDGs) within the domain of healthcare. This public healthcare fest saw a participation from over 350 attendees and hosted riveting panel discussions, workshops, competitions, and round-table discussions led by ICMR scientists Dr. Sumit Aggarwal and Dr. Heena Tabassum and an exhibition organized and held by Lifeline Foundation, The MINDS Foundation, and Lakshya Trust.
The aspiring and practicing public health and healthcare professionals had an opportunity to be a part of the panel discussions on public health policies, their implementation, and other academic competitions such as poster presentations, debate competitions, quiz for public health and hospital administration professionals, and hands-on workshops to gain an in-depth understanding of public health.
The event hosted eminent personalities of the community health scene, Dr. Pradeep Bharadwaj, President Awardee and CEO, Six Sigma Healthcare and Dr. Anita Bharadwaj, President Awardee and Medical Director, Six Sigma Healthcare; who have done a tremendous job in saving lives of countless individuals on high altitude. During the event, they highlighted the importance of creating and strengthening healthcare system and discussed in detail about the innovations and advancements in healthcare. Their interactive sessions captivated the audience as they delved deeper into their work and how sustainable development goals can be achieved by working together.
Quest: A Healthcare Fest 2023 organized and hosted by the Parul Institute of Public Health was aimed at addressing and formulating efforts to march towards achieving sustainable development goals through innovation, collaboration and effective implementation of the healthcare policies. By bringing together a diverse range of professionals, students, and community members, this event aimed to empower individuals to take control of their health and make better informed decisions. "The event is a true reflection of our commitment to improving the health and well-being of our community and we hope to inspire and educate individuals on their journey to a better health and encourage them to take steps towards a healthier, happier, life," said Dr. Geetika Madan Patel, Vice President and (Quality, Research, & Health Sciences) and Medical Director, PU.
Dr. Apurvakumar Pandya, Director, Parul Institute of Public Health, said, "The QUEST 2023 is not just an event. It is indeed quest for excellence in healthcare, quest for making "health for all" a reality. The QUEST 2023 aims at providing platform for students and young healthcare professionals to exchange knowledge, demonstrate their talents, sharpen their skills in healthcare domain, showcase their innovative work and build network."