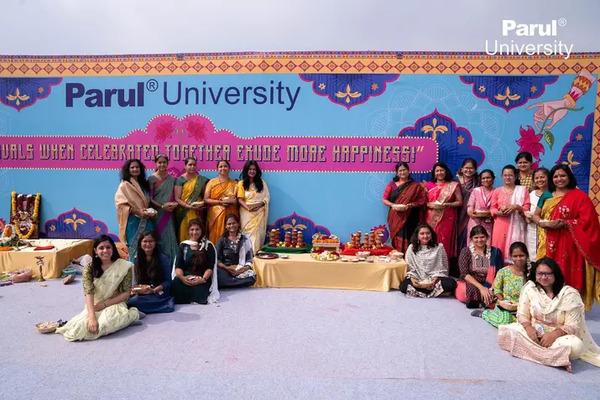 PU in Vadodara has not only focused on improving the quality of education provided to its students, but it has also worked to create an environment in which students can celebrate their heritage and culture. On that note, the university hosted three combined high-profile events to commemorate Makar Sankranti, Sugar Pujan, and Lohri. The goal of the campus celebrations was to allow students to feel at home and express themselves and their cultural heritage. Parul Universe has a growing presence of East & South Indian students, who continue to shower the campus with a ray of cultural diversity.
Makar Sankranti, also known as the Sankranthi Sambharalu festival, is celebrated with great pomp and show. The event began with an auspicious Bhogi fire in the early morning, with the goal of burning all evil and spreading the light of happiness. A cultural procession called "Devudu uregimpub" was taken to the main stage where a prayer was performed for Surya Narayan Lord, in which colourfully dressed, painted God Goddesses and lion tigers painted students showed the pride of Surya Narayan Lord. Kollatum, a beautiful traditional folk dance similar to dandiya in Gujarat, was also performed.
During Makar Sankranti, one of the major highlights was the preparation of Pongal in earthen pots in the presence of Lord Suryanaran. The dish was served as prasadam to the Lord while traditional games such as uttu kuttu and others were organised in the game arena. The wonderful cultural evening featured student songs and dance to the beats of telugu songs. A Sugad Pujan is a secret donation which was also part of the activities that were done. Three kullads were filled with sugarcane, were chana, til, bor, carrot, and til laddu and married faculty members exchanged small gifts to wish each other haldi Kum Kum.
Lohri was amongst the three events and this is a harvest festival celebrated by the university's North Indian students from Himachal Pradesh, Haryana, Punjab, and Jammu Kashmir. In addition, Pooja was also performed which was followed by a Punjabi dhol performance with bhangra which left the audience stunned.
PU, which has over 2,500 international students and students from every Indian state, hence its value on cultural diversity and continues to celebrate significant days in its students' lives in an effort to foster unity and likeness on its campus.