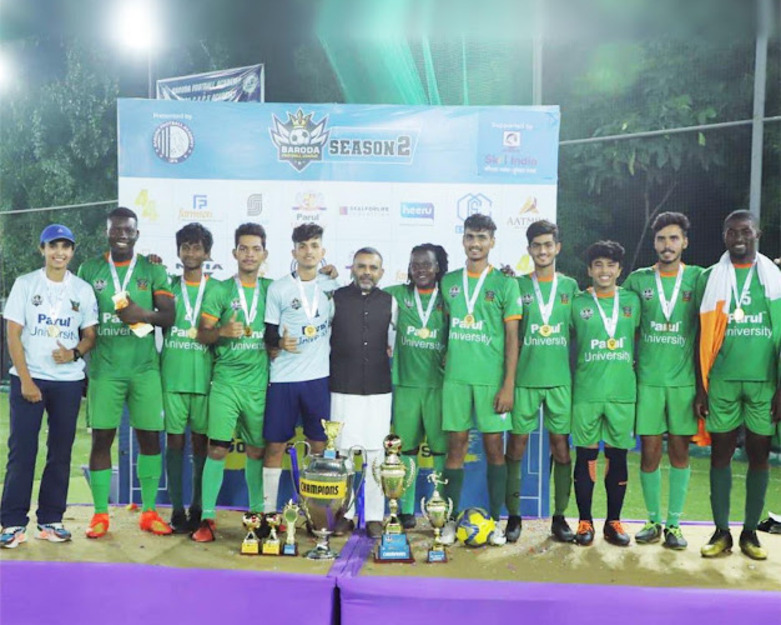 Every year PU's soccer team keeps on creating lasting impressions in every season of the Baroda soccer league. Recently the team was crowned as the winning team of season 2 at the 2022 championships. In a reward for their hard work, the students received a bountiful cash prize of Rs 1,00,000. Despite the intense competition with students from other institutions, PU's team took the lead in every level, ultimately leading to their victory.
PU did not only win the championships but the students also secured awards for their outstanding performances. The students include Dyvonne Muchenje who was crowned as the Top Scorer of the tournament, Yavo Jean shining as the Top Scorer of the tournament, Rohit Rathod as Goalkeeper of the tournament and finally Tadiwanashe Allan who was crowned as the Player of the tournament.
The team spent countless hours worth of practice along with the passionate guidance from their coach Miss Tarannum Shaikh. PU continues to provide the students with the necessary facilities, equipment, and support to ensure an all-round development alongside their studies. " We are very proud of the team for putting in measureless effort towards this league, with this drive and passion I believe in the future we are going to reach for greater heights" Shared Ms. Tarannum, PU soccer team coach.