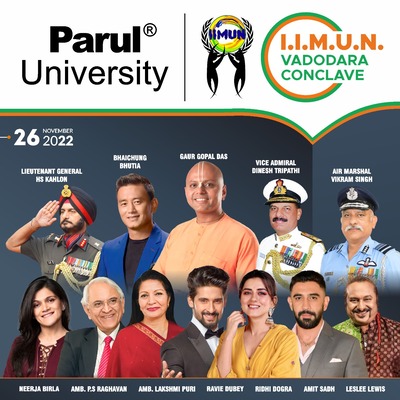 I.I.M.U.N.(India's International Movement to Unite Nations) is a youth organization committed to inspiring young students to be global citizens with an Indian mindset. Comprising 26,000 organizers who host conferences in 220 cities and 35 countries, this time they are coming to our city - Vadodara.
This I.I.M.U.N Vadodara Conclave will witness some of the biggest names from diverse fields. Students can attend this event and expect to get inspired and get entertained. Spiritual leaders, corporate visionaries, philanthropists, armed forces personalities, and actors will be addressing the young students at this gathering. One can also expect to have an amazing evening where famous dance troupes and singers will be performing live. All in all, 26th November 2022 at Parul University is going to be an unforgettable evening for the students and participants!
Terms and Conditions
The registration process is valid only for PU Students / Alumni and Staff. Proof of identity shall be checked at Entry.
The Event is scheduled to begin at 5 pm on November 26, 2022. Participants should take their seats by 4:10 pm.
Once the event starts, movements shall be restricted and exits shall be accessible once the event is over.
Participants are advised to have lunch / snacks before coming to the venue.
Specific bands shall be issued for entry to the venue. The date and time of collection of the same shall be conveyed separately.
Rights of Admission Reserved | Single Entry Per Registration shall be only allowed.
In exceptional cases, if need be, organisers may pause the entry to the venue indefinitely based on the situation.
Organisers are not responsible for any kind of loss of the provided entry bands and bear no liability to replace it if lost.
Click the link to register
https://easebuzz.in/link/parul-university-presents-iimun-vadodara-conclave-XOWUF