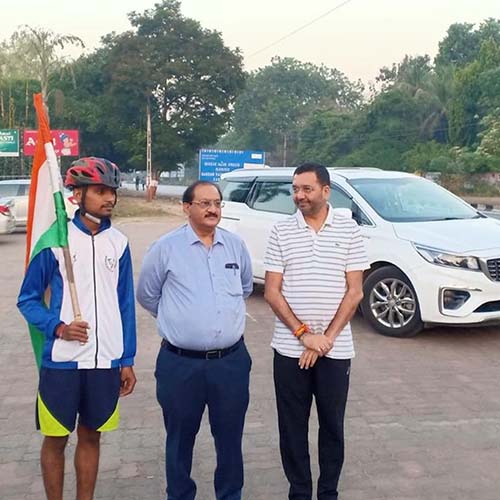 National pride and patriotism has been expressed in numerous ways and for 2nd year BBA student and skater, Agstya Valland, national pride meant rollerskating his way to the Statue Of Unity. As a way of paying tribute to India's first Deputy Prime Minister, this student of PU, skated a 145 kms journey beginning from Karamsad to the Statue of Unity. His journey to this iconic landmark in honour of late Sardar Vallabhai Patel, began on the morning of the 31st and reached his destination on the 1st of November. In preparation for this noble initiative, Agstya underwent extensive training sessions of upto 3 hours on a daily basis dating back to 3 months. His commitment and dedication was not only from his passion for skating but also his nation, allowing him to successfully complete this quest.
Being both a student at PU's Institute of Business Administration and also an active athlete, Agstya has managed to keep a steady balance between his academics and his love for sports. His journey was flagged by the collector Shri M. Y Daxini and MLA Shri Mitesh Bhai Patel of Anand constituency. Throughout his journey, behind him was the full support of people from across his home city and the whole State of Gujarat. On being asked how he managed to start this journey Agstya said " from the start I knew that this journey was not going to be an easy, so I began preparing at least 3 months back and I was skating daily for 3 hours because of which I built my stamina and tried to build my capability to skate for longer hours without stopping".
The University's comprehensive teaching and learning processes have allowed Agstya Valland the flexibility and support which he required to excel in his academics while developing his stamina for such challenging sporting exploits. Through this journey, beyond his desire to show his pride for his nation, this young athlete also wanted to put skating on the National map. Through his belief, skating has not received the same amount of spotlight as other sports in India have, hence through this endeavour, Agstya hoped to express the value of skating to the Sports Authority of India.
" To make this journey possible I used the route Karamsad – Anand – Vadodara – Kapurai – Dabhoi – Kevadia. The route from Karamsad to Vadodara and then to Kapurai was easy due to the highway, however after Kapurai chowkdi the route was quite challenging as the road was not well. In the 40 Km journey I felt like giving up but then I remembered the purpose of my journey and remembered how the IRON MAN of India had done so many things for India so why can't I do this small thing so I gathered myself and continued with my journey", said Agstya.
Upon arriving at the Statue of Unity at 5 am with the tricolour resting on his shoulders, the athlete shared his appreciation for those across Gujarat who stood by him and his friend who accompanied him and motivated him. He also shared his appreciation for PU and his Principal Dr. Shantanu Chakravarty, for promoting this journey along with his friends and faculties from the BBA Department for showing up and motivating him in his journey. For his next endeavor, Agstya hopes to break the Guinness book of Record by skating from Anand to New Delhi on the 15th of August 2022 in commemoration of the Nation's Independence Day celebrations