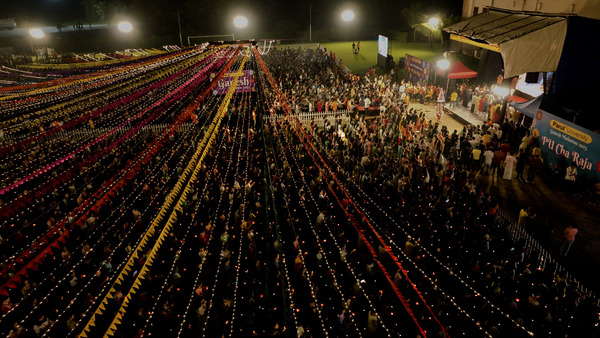 Commitment to fostering cultural diversity and harmony has always been on the agenda of the city-based PU and as a testament to its cultural inclusivity, the university recently commemorated the auspicious occasion of Ganesh Maha Aarti of PU Cha Raja on the Day 8 of Ganesh Mahotsav 2023 - a celebration that reunited devotees in reverence and joy. The event showcased a cultural splendor and spiritual fervor during its celebration on the serene campus of the university.
This year's Ganesh Maha Aarti is a true reflection of the university's dedication to preserve and promote rich traditions and customs that transcend the geographical boundaries. This year's Maha Aarti commenced with traditional prayers, followed by an auspicious Maha Aarti ceremony - offering an opportunity to everyone in attendance join the aarti and seek blessings of the Lord Ganesha. 11,001 diya were lit during the Maha Aarti, further filling the air with devotion and joy. The Maha Aarti brought together students and faculties alike as they partook in the rituals and experienced the spiritual serenity of the occasion. The students gave a beautiful and mesmerizing tribute to Lord Ganesha with beautiful traditional acts and dances performed at the Maha Aarti ceremony.
With thousands of students and faculty members in attendance, the Maha Aarti also saw the presence of Dr. Devanshu Patel, President of Parul University. Dr. Geetika Madan Patel, Medical Director and Trustee, Dr. Parul Patel, Vice-President of PU, and Dr. Komal Patel, Medical Director, and their families. In addition, PU's various stakeholders and eminent dignitaries were in attendance during the Maha Aarti as they all came together to seek the blessings from the Ganpati Bappa, the Lord of Wisdom and the Remover of Obstacles.
Ganesh Mahaarti is a cherished tradition, embodying a spirit of unity and devotion and PU highly values the cultural richness brought in by the diverse community of students and faculty members on the campus. "Ganesh Maha Aarti is a beautiful convergence of faith and harmony and at PU, we are proud to be celebrating this auspicious occasion, fostering unity and understanding among our diverse community," said Dr. Devanshu Patel, President of PU.