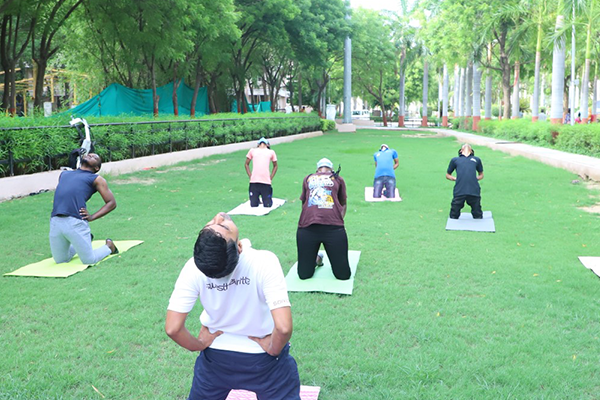 A healthy lifestyle is a healthy nation. From ancient eons, Yoga has created a platform that brings the world together with its beauty that goes beyond race and language. The International Yoga Day was conceived in 2014 by the United Nations General Assembly to be celebrated annually on 21 June. The health experts of PU's Faculty of Ayurved in association with the National Service Scheme organized a live Facebook session of Morning Yoga.
Yoga is an invaluable gift of India's ancient tradition. It embodies unity of mind and body; thought and action; restraint and fulfillment; harmony between man and nature: a holistic approach to health and well-being. It is not about exercise but to discover the sense of oneness with yourself, the world, and nature. Changing our lifestyle and creating consciousness, can help in well-being. Let us work towards adopting an International Yoga Day.

— Narendra Modi, UN General Assembly
Yoga is like life, it possesses a balance of holding on and letting go. During these times where the world has gone virtual, it is imperative that people adjust to interacting in these spaces. However, with this new normal to curb the spread of the virus, it doesn't mean that life should come to a halt. This session organized by PU seeks to bring Yoga enthusiasts under one umbrella to enhance mental health and wellbeing for all. Undeniably, the fluctuant times have caused many anxieties and depressions hence it has become needful for this healing practice to be initiated to help people cope. Experts have proven the growing practice of this soft power with the Yoga mat market estimated to reach $17.32 billion by 2025, growing at a CAGR of 5.8 percent from 2019 to 2025.
Expert Facts About Yoga
It helps manage stress and anxiety and keeps you relaxing
It aids flexibility, muscle strength, and body tone
It improves breathing, energy levels, and vitality
Practicing yoga helps build your confidence and esteem
Therefore Yoga is more than stretching it does more for your body so grab your yoga mat and refresh this International Yoga day.