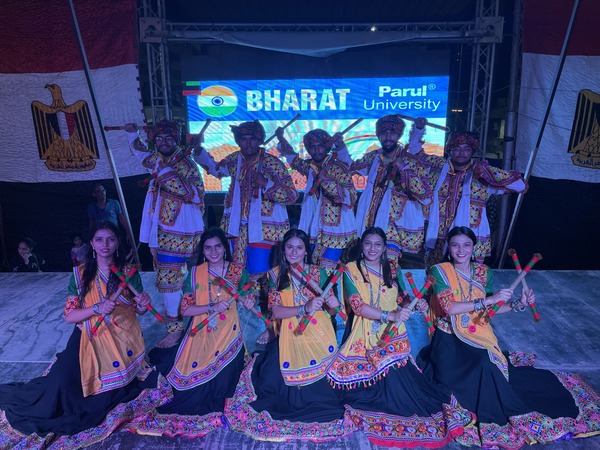 With the recent G20 summit taking India global through diplomacy, these 10 students of Vadodara's PU also took India's culture global with their mesmerising garba performances in Egypt. To showcase the essence of incredible India, 10 students of PU were selected to represent India at the highly prestigious 23rd Edition Ismailia International Festival for Folk Art that was organised in Egypt during the month of September. The festival is a global event that conducts an artistic dialogue between different nationalities of the world on a common platform that is designed to celebrate the essence of humanity's cultural heritage. This annually held festival created a hive of activity celebrating the rich essence of humanity in its glory and the richness of its diversity.
This year's festivities included twenty troupes from seven countries who came together to showcase their unique traditional folklore dances and cultural heritage performances during this six-day festival. The University's Department of Cultural Affairs cell has been working extensively towards developing the scope of India's culture, and a platform such as this festival presented a platform where the students could showcase various key aspects of Indian folk heritage to the world and expose people to the world. The incredibly talented students who went forth to light up the stage with their graceful movements and vibrant costumes include Dipal Patel, Devanshi Mehta, Tanvi Patel, Daisy Vaghasiya, Palak Rathod, Krishna Bamaniya, Kush Patel, Pavan Sapra, Ketul Joshi and Krutarth Gohel.
The University continues to align with such opportunities where students are able gain a broad awareness of how other people live and what other cultures prioritise allows a student to think differently about their own lives and the world. Additionally through this platform, the students had an exposure to endless opportunities to gain a global network of communities from all over the world. Moreover, experiencing another place and culture is an opportunity for the students to appreciate their roots and realise the importance of cultural diversities of the world.
"We are immensely proud of our students, these students are true ambassadors of the rich cultural heritage of India and their exceptional skills in performing Garba have earned them this honour. They are not just representing India, but they are also inspiring young people everywhere to embrace their cultural roots and pursue their dreams with passion and perseverance" shared Dr. Devanshu Patel, the University's President.